The Courtyard Offers Stability and Opportunity for Fort Wayne Youth Aging Out of Foster Care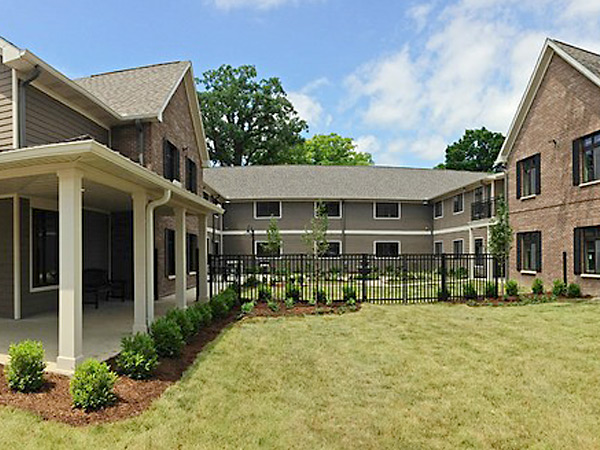 The Courtyard provides affordable housing with supportive services for youth aging out of foster care in a building designed to create a feeling of home. Credit: Biggs Property Management
The Courtyard in Fort Wayne, Indiana, is a 36-unit apartment building for youth aging out of foster care who earn less than 60 percent of the area median income. The development provides residents, many of whom have experienced trauma and are at risk of housing instability, with safe housing and access to an array of social services. Support services to develop self-sufficiency are available to residents who want them. In addition, Courtyard residents are empowered to play an active role in its operations through a tenant council. The Courtyard's supportive and safe environment helps residents both stabilize their lives and advance their personal goals.
Fulfilling a Need
The Courtyard opened in 2014 as the first supportive housing in Indiana serving young adults aged 18 to 25 who are aging out of foster care, experiencing homelessness, or at risk of homelessness. In addition to 24 one-bedroom units, the two-story building consists of 12 two-bedroom units that can accommodate families. Residents are required to pay rent, but they pay no more than 30 percent of their income because the units come with Section 8 project-based vouchers from the Fort Wayne Housing Authority. The Courtyard was codeveloped by Biggs TC Development and the nonprofit Stop Child Abuse and Neglect (SCAN), which is the property owner and lead social service provider. Financing for the $8.7 million development included approximately $6 million in equity from low-income housing tax credits and nearly $1 million in Neighborhood Stabilization Program funds.
Living in a Safe Home
The development team convened focus groups, including foster care youth, during the design process. The youth expressed a desire for a feeling of home that an institutional setting does not provide. According to Kevan Biggs, president and general manager of Biggs Property Management, which manages the property, the design team responded with several specific features: building details and massing reflecting those of nearby residences, a front porch at the main entrance, an entrance lobby with a domestic décor, and a landscaped courtyard with fountain.
Another major design goal was to encourage resident interaction. To promote formal and informal socializing, the Courtyard includes various common areas and amenities, including rooms for meetings, arts and crafts activities, and fitness programs. By design, these common spaces are placed so that residents must walk to these spaces, affording opportunities to interact with other residents along the way. The building's hallways are wide, with alcoves and recreation areas for activities such as Ping-Pong. Residents, who organize social events with encouragement and support from staff, also use the lobby and other common areas for group dinners and movies.
This was not the whole article. To me we have to try to keep them under a roof and feed them first. Literally start with just keeping them alive! There will always be those we can't help because they don't want it and won't change their ways...but we need to at least give them incentive to try. For those that do need and want the help, I think this is a good way to go.
Honestly, when I think of all we spend on makeup, clothing, decor, concerts, and whatever else we spend these days (I speak for myself, too).... I feel ashamed at times. These days I'm asking myself more and more.....do I really need all this stuff? I mean .....there are women and children cold and hungry in the streets and we think nothing of paying over $100. for a bottle of perfume or $25 dollars for a darn lipstick. It shouldn't be all government. We all have to do our part.....all of us that can. I am not judging. I'm as guilty as anyone else.